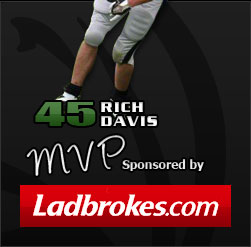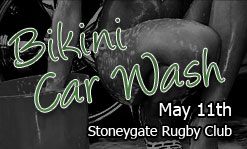 30/12/2008
Saul Freer appointed as new D.C
With 2008 coming to a close the Leicester Falcons have managed to end the year by filling the position of Defensive Coordinator which was made vacant when Andy Perry stepped down from the position last month.
Although the Falcons received a number of applicants, Coach Hopewell has decided to appoint from within, and the new DC is former defensive line coach Saul Freer.
Saul was... [read more]

Leicester Eagles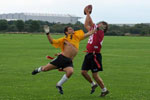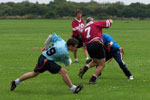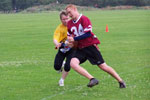 The Leicester Falcons are affliated with the Leicester Eagles who are a flag football club that play a 5-a-side non-contact version of the sport. Flag football is a great way for new players to get into American football, or for more experienced players to polish up their skills. The game is fast, skilful and great fun. As an introduction to the sport it's great for picking up techniques of passing, catching etc and develops defensive skills too.
There are three age groups: 7-11, 11-14 and 14-17. Training is held every Sunday at Victoria Park opposite the Old Horse pub starting at 10am. They are a successful and friendly club and new players are very welcome to go along and join in one of the training sessions at any time.
You can find out more at the Leicester Eagles website, www.leicestereagles.co.uk or by contacting the team manager, Aileen Pimperton, by phone on 07989 461264 or by emailing aileen_pimperton@hotmail.com.